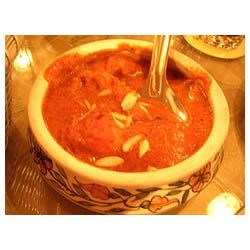 Being a steak and potatoes girl, it took a bit of convincing from my dear friend to try Indian cuisine when we'd take a break from the office and head out to lunch. Of course I became hooked right before I stopped working in the city. Now I'm constantly craving Indian Butter Chicken without a decent Indian restaurant within 60 miles!

My husband is the chef in the house so I don't cook all that often. Believe me, I'm all thumbs in the kitchen. But I found this recipe and decided to give it a shot.

We really need to check out Kroger's. I keep forgetting there is one about 30 minutes away. They might have some of the harder to find ingredients that Wal-Mart didn't carry. We headed to Pittsburgh for a trip to IKEA over the weekend so I grabbed what I needed there.

The only ingredient I wasn't able to find was fenugreek leaves. I was about to substitute fenugreek seeds since we have some on hand for use by my hubby in his dishes. But I read a great post suggesting just to skip the leaves instead of substituting seeds since the seeds are so bitter.

This recipe takes a bit of time to prepare, but it was a hit! Even our 6 year old loved it. We served it with rice and flat bread (not as good as nan, but an OK substitute). Next time I'll prepare some vegetables and maybe chick peas as well. I highly recommend this dish as an introduction to Indian cuisine. Its loaded with wonderful spices, but not too spicy. And the chicken is SO tender. Delish!